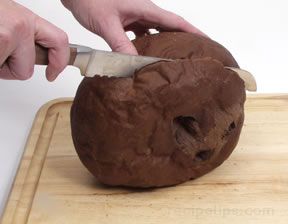 You will need a round loaf of bread, such as Rye or Sour Dough. Keep in mind that a bread that is too soft will absorb the dip quickly and will become soggy.
Slice off the top 1"-2" of the bread. Cut around the inside of the bread to create a 1" border around the sides. Hollow out the inside of the bread loaf creating bite size pieces. If you will not be using the top, cut that into bite size pieces also.
The bread bowl can be used for dips, chili, soups, spaghetti, etc. If serving a hot food, spread garlic butter on the inside of the bowl and place in the oven for 3-5 minutes before filling.