Creating Zest for Seasoning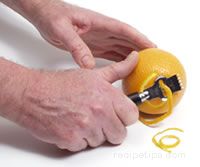 Zest refers to the outer skin of citrus fruits such as oranges, lemons, and limes. The colored part of the skin contains natural oils that provide aroma and flavor. Small shavings of the skin are added to various dishes to intensify the required citrus flavors. The white portion of the skin, or pith, which lies just below the zest, should not be used because of its bitterness.
Zest can be made using a zester tool, by cutting with a vegetable peeler, or by slicing strips with a sharp utility knife.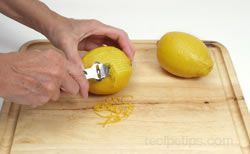 Zester Tool
When using the zester tool, the zest from the citrus fruit is removed in fine threads which can be used in that form or they can be minced to use as an alternative to grated zest.
To measure, pack zest lightly into measuring spoon. Unless specifically stated in the recipe, do not pack the zest tightly.
For more detailed information on zesting see All About Lemons.