The watermelon basket can be filled with a fresh fruit salad containing your favorite melons or use a mixture of melons along with other fruits such as strawberries, blueberries, raspberries, and grapes. The watermelon basket is an attractive way to serve fresh fruit for many special occasions: holidays, weddings, anniversaries, birthdays, graduations, baby and bridal showers, brunches, luncheons, reunions, or anytime you get together with family and friends.
Watermelon Basket | How to use a Melon Baller | Fruit Salad Recipe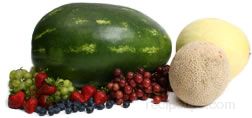 Watermelon Basket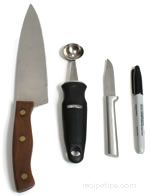 Tools
Large, sharp chef's knife
Melon baller
Small paring knife
Water proof black marker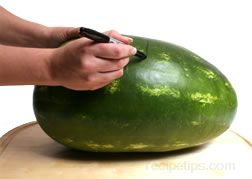 Using a water proof black marker, draw an outline of a basket onto the watermelon, drawing the handle approximately 1½ to 2-inches wide.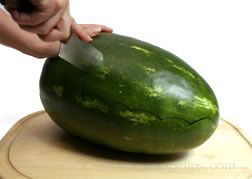 Using a large, sharp knife cut along one side of the handle until you reach the horizontal basket line of the watermelon.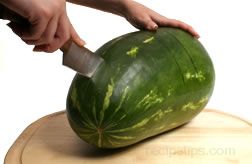 Cut a straight line from the center of the basket handle line to the horizontal basket line of the watermelon.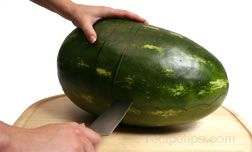 Cut a straight line above the horizontal scalloped basket line; follow to the beginning of the handle on the opposite side.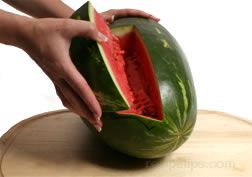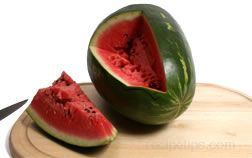 Remove quartered section and set aside. Repeat until all sections above the basket of the watermelon have been removed.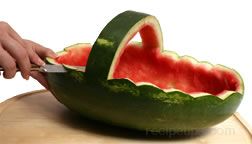 Remove the flesh from under the handle with a small utility knife.
Remove as many seeds as possible from the watermelon flesh.
Using a melon baller, create balls with the watermelon flesh in the quartered sections of the watermelon. Create melon balls from watermelon flesh that remains in the basket. If a melon baller is not available, use a small tablespoon.
With a small, sharp paring knife, carefully follow along the scalloped edging.
Cover watermelon boat with plastic wrap. Place in the refrigerator until ready to use. Fill with fruit salad immediately prior to serving.
How to use a Melon Baller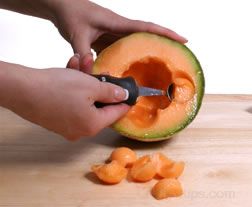 Insert a melon baller into the flesh of a melon and twist to form a ball.
Fruit Salad Recipe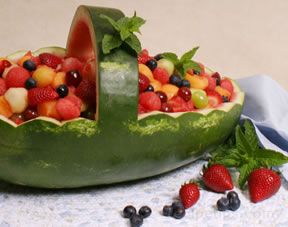 1 large watermelon
1 honeydew melon
1 cantaloupe melon
1 pint blueberries
2-3 pints strawberries
1 pound seedless green grapes
1 pound seedless red grapes
1/2 cup orange juice
juice from 3 real limes
juice from 2 real lemons
1/2 cup sugar
Remove the flesh of the watermelon, honeydew melon and cantaloupe melon with a melon baller and place in a large bowl.
Wash blueberries under cool running water. Add to the large bowl.
Wash strawberries under cool running water. Remove the stem and slice strawberries in half. Add to the large bowl.

Remove grapes from the vine, wash under cool running water and place in the large bowl. Slicing the grapes in half is optional.
In a separate bowl, combine orange juice, lime juice, lemon juice and sugar. Stir until sugar is completely dissolved. Add to the large bowl of mixed fruit and stir.
Allow fruit to chill a minimum of 30 minutes. Transfer fruit to watermelon basket immediately prior to serving.