Bread Making Demonstration:
Quick Bread


Lemon Bread
Lemon bread is a popular quick bread that is usually flavored with lemon zest or lemon extract to provide a distinct lemon flavor. There are a wide range of recipes for lemon bread. Some recipes include nuts, such as walnuts or pecans, while others may include poppy seeds.
A typical recipe for lemon bread with poppy seeds is demonstrated below.




In a large bowl, combine the following ingredients:
1½ cups all-purpose flour


½ cup and 2 Tbsp. sugar


¼ cup and 2 Tbsp. half and half or whole milk


½ cup softened butter


2 large eggs


1 teaspoon baking powder


½ tsp. salt


2 Tbsp. poppy seeds


Grated rind of 2 lemons

Use an electric mixer to blend the ingredients at medium speed.
Use rubber spatula to scrape the sides of the bowl to make sure that the ingredients are well blended.
Pour the batter into a greased 9 x 5 inch loaf pan and bake in a preheated 350ºF oven for 45 to 50 minutes or until a toothpick comes out clean when inserted into the bread.

After removing the bread from the oven, prepare a glaze by combining the following ingredients in a small bowl:

¼ cup sugar


2 tablespoons melted butter


1½ tablespoons lemon juice

Stir the ingredients until well blended, and then pour the glaze over the bread.
Allow the bread to cool for 15 minutes and then run a knife around the edges of the loaf pan to loosen the bread from the pan. Further cooling should be done on a wire rack.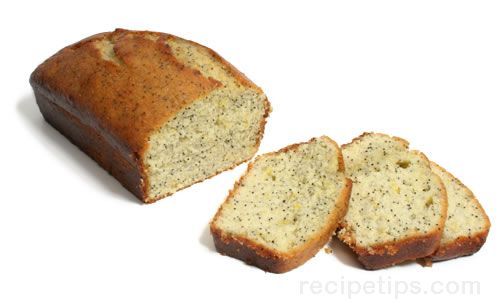 Lemon Bread with Poppy Seeds