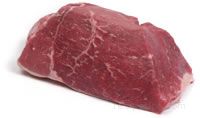 An oven roast is a cut of beef that is usually a minimum of 2 inches thick. The best roasts are obtained from the loin and rib primal cuts. They are very tender and they are expensive. The tenderloin, standing rib, and rib-eye are among the best oven roasts and benefit from the dry heat of roasting, but only if the meat is not overcooked.
Cuts from the sirloin, such as the tri-tip or the top sirloin butt roast, are used more often than loin or rib cuts because they are less expensive. Some of the cuts from the round, such as the top round or eye round, are slightly tough and are better suited to braising than oven roasting. The bottom round (pictured) may be used as an oven roast if it is of the best quality and if it is roasted in a hot oven (450ºF), which will sear the exterior.

A rib roast may be cut into two sections known as the first cut rib roast and the second cut rib roast. The first cut is also called a small end rib roast and includes ribs 9 through 12, which is nearer the loin primal. It is slightly more tender than the second cut, also known as the large end rib roast, which includes ribs 6 through 9 and is nearer the chuck cut. A rib roast may include the bones and is known as a standing rib roast or it may be boned, rolled, and tied and is known as a rolled rib roast.
The tenderloin is the most expensive cut of beef. Although the weight and length of the tenderloin may vary, the diameter of the trimmed tenderloin is always the same. A tenderloin that is not trimmed may weigh as much as 9 pounds. It may weigh as much as 5 pounds when it is trimmed. The trimmed tenderloin makes an excellent roast or it can be cut into smaller pieces and sold as filet steaks.