Avgolemono Sauce (or Soup)
Avgolemono refers to a traditional Greek soup or sauce. Most often, when it is made as a soup, bits of chicken are added to make it similar to a cream of chicken soup but one that has a lemony flavor. The liquid obtained from cooking fish or chicken is added to the soup along with eggs and the featured ingredient, lemon juice. As a sauce for fish or poultry, the egg yolks and lemon juice are whisked separately from the egg whites, which are beaten into a stiff foam. The yolks and lemon juice are added to the stiff whites and the ingredients are then combined with the cooking liquid, which is reheated until fairly thick in consistency.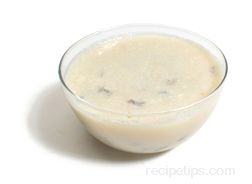 Tzatziki Sauce
A creamy Greek garlic sauce often served as a topping, a condiment, or a food dip, commonly served with a variety of Mediterranean dishes. Tzatziki is a white sauce made with yogurt, cream, cucumbers, fresh herbs, and seasonings, such as mint, dill, olive oil, and garlic. Served as a chilled sauce, tzatziki is commonly used on gyros, pita sandwiches, dolmades, roast lamb, roast pork or beef, fish or seafood, rice dishes, grilled vegetables, and many other foods. This cold sauce with its fresh ingredients adds a refreshing taste to many foods. Tzatziki sauce may also be referred to as tsatziki, satziki, satsike, or simply as a yogurt and cucumber sauce.