Eggshell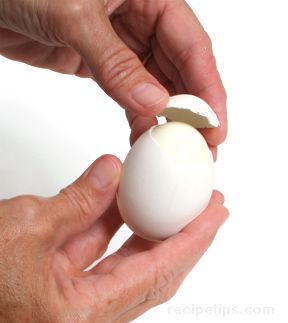 The shell is the outer covering of the egg, which protects the contents from damage and contamination. The shell is composed mainly of calcium carbonate and may contain as much as 12% of the total weight of the egg.
The surface of the shell is covered with thousands of microscopic holes which makes it quite porous. A natural coating referred to as the "bloom," helps to seal the holes, preventing bacteria from entering. As the egg ages, the bloom is worn away, which allows moisture to slowly escape and air to enter, thus increasing the size of the air cell already present in the egg. Bacteria may also enter the egg, which may result in contamination.
When eggs are packaged for sale to consumers, they are carefully washed to remove germs that may be on the surface. This procedure removes the natural bloom, so a thin coating of mineral oil is applied to take the place of the bloom. This oil coating acts in the same manner as the natural bloom, keeping the contents fresh for longer periods.
The thickness and strength of the shell are determined mainly by the age of the hen and by the diet of the hen. Calcium, Vitamin D, and phosphorous are important nutrients that the hen must have in its diet in order to promote proper shell formation.
Hens produce larger eggs as they age, but the thickness of the shell decreases. This is because the same quantity of shell material is produced, but it must cover a larger volume of contents.