Storing Used Cooking Oil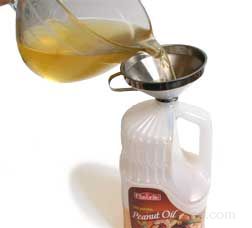 After the oil has been cleansed, it can be poured back into its original container for storage, but make sure the oil has cooled to room temperature first, especially if the container is plastic. Fill the container with the aid of a funnel.
Be sure the oil is covered before storing, however do not place the cover on the container or refrigerate it unless the oil is completely cooled, otherwise moisture may accumulate inside the container and cause rapid deterioration of the oil.
The oil can be stored in a cool, dark area if it will be used within a month. For longer storage, the oil can be stored in the refrigerator for several months. Freezer storage will further extend the shelf life.
Note: When chilled, many oils will thicken and become cloudy in appearance. When reheated, they will return to their normal consistency and color.