The different types of table settings do not require different tableware. Just because you are setting a formal table does not mean you have to have expensive china. The important thing is that the tableware fits into its surroundings and that the tableware, tablecloth, napkins, centerpiece, and other accessories complement each other and looks well together. Following basic guidelines will help you end up with a table setting that is pleasing to all. See more tips and advice on entertaining.

Table Settings | Appropriate Stemware | Napkin Folds
Table Settings
Guidelines for All Table Settings | Formal Table Setting | Casual Table Setting | Buffet Table Setting

Guidelines for All Table Settings
To avoid overcrowding, allow 24" to 30" for each setting. Place settings should be 1" from the edge of the table, and avoid centerpiece arrangements that obstruct the view of guests.
Do not place items such as coffee cups, tea cups, and/or dessert plates on the table if it crowds your guests. It is appropriate to bring those items to the table after the main course has been cleared and dessert is served.
If a shortage of place settings is a problem, mix in pieces that do not match. Mix and match place setting has become a popular trend.
When deciding on a table centerpiece, keep it low. Large, tall centerpieces obstruct the view of your guests.
Choose an atmosphere that is appropriate for your gathering, an atmosphere that compliments your meal and encourages conversation.

Formal Table Setting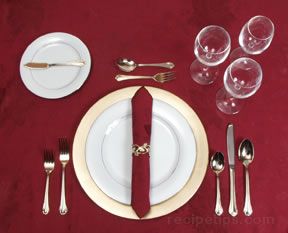 Lay cutlery in order used, from outside to inside.
Save space by placing the dessert spoon and fork at top of table setting. If table seems too crowded, bring when serving dessert.
Glasses are at the top right corner, wine glass placed above tip of knife.
Three goblets are set at a formal dining arrangement: a water goblet (left), white wine goblet (top right) and red wine goblet (above tip of knife).
Napkins can be placed on dinner plate or to the left of forks.

Casual Table Setting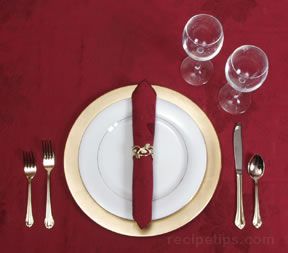 This less formal option provides more space for guests around the dinner table.
Dessert spoon and fork are optional and can be placed above the dinner plate.
Bread and butter plate is optional and can be placed above the forks on the left.
Two goblets are set at a casual dining arrangement: a water goblet (left) and one wine goblet (above tip of knife).
Napkins can be placed on dinner plate or to the left of forks.
Paper napkins are appropriate for a casual setting, folded and set to the left of forks.

Buffet Table Setting
Start with plates, followed by side dishes, main dish, vegetables, salads, breads, and relishes. The utensils are placed at the end of the buffet.
Table decorations are placed above and in center of buffet arrangement.
Set drinks, glasses, cups and dessert on a separate table to avoid congestion.
If choosing to use paper napkins, the napkins may be placed between each plate in the stack to conserve space (not more than 12 plates per stack).
See Setting a Buffet Table for more details on buffet table setting.

Appropriate Stemware
| | | | |
| --- | --- | --- | --- |
| | | | |
| Water Goblet | Red Wine | White Wine | Sparkling Wine/Champagne |

Napkin Folds
Classic Napkin Fold | Pocket Napkin Fold | Ring Napkin Fold | Accordion Napkin Fold | Tulip Napkin Fold | Cocks Comb or Bird of Paradise Napkin Fold | Peacock Napkin Fold | Snowflake Napkin Fold
Napkins are used for functionality and to add to the decor of the table. Both paper and cloth napkins can be folded to add decoration to your table. Each has its advantages and disadvantages. Paper napkins will hold their shape better because the paper holds a crease better than the cloth. They work well for napkin folds that need crisp folds for the design, but the biggest advantage is that they can just be disposed of after they have been used. When working with paper napkins it is best to use a 3 ply napkin and be sure your hands are clean and dry before working with the napkins.
Cloth napkins work well with napkin folds that have a flowing design and if a crisp edge is desired, be sure the napkin has been starched so they hold their crease better when finger pressed. They are softer and more elegant to use. They do not have the prefolded creases so they are easy to work with. They are reusable so they must be laundered, pressed and store. They should be stored flat but if they must be folded to be stored, you may want to wait to press them until just before folding for use.
Basic Napkin Folding Tips:
Always work on a clean, dry surface when making napkin folds.
Most designs call for a square napkin. If using a large paper napkin that is not square, trim one edge to make it square.
Using a napkin with a right and wrong side makes it easier to follow the folding instructions.
When folding a design that must stand on its own, avoid using cloth napkins that are all cotton or linen because they have a harder time holding a crease and will begin to unfold. A more flowing or spreading design would be best for these types of material.
For instructions on some common napkin folds, choose one of the folds shown above.