The New Food Guide Pyramid Defined | Estimated Daily Calorie Requirements


The New Food Guide Pyramid Defined
In April of 2005, the USDA unveiled the new food guide pyramid for the purpose of educating people on the importance of healthy eating and exercise. Instead of the horizontal lines dividing the food categories that the public has become accustomed to, the pyramid now depicts the food sections with a series of vertical lines. An additional activity section was included, which is designated by a person walking up a flight of stairs. This is to help remind the public that physical activity is as important as eating a healthy diet.
The rainbow bands on the pyramid are categorized as follows:

Orange: Grains


Green: Vegetables


Red: Fruits


Yellow: Oils


Blue: Milk products


Purple: meats and beans

The wider bands emphasize the foods that should be eaten more frequently, while the thinner bands represent the foods to consume in moderation.
It is important to understand that every person has a different calorie intake requirement based on their age, gender, and activity level. The old food guide pyramid did not take this into consideration. The new system focuses on those three key points. In addition, twelve models have been developed that provide calorie amounts ranging from 1,000 calories a day for toddlers to 3,200 a day for active teenage boys. In conjunction with this system, the USDA has developed a Website that calculates the caloric requirements for you. Go to MyPyramid.gov and enter your age, gender, and activity level; the pyramid planner will calculate the calorie level you need to maintain, and it will provide the recommended quantities of every food group that is required to maintain a healthy lifestyle.
Estimated Daily Calorie Requirements
The following chart provides an estimate of individual
calorie requirements depending on age, gender, and activity level.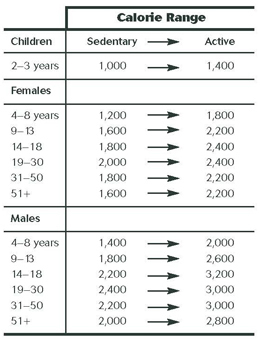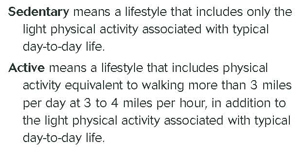 For this and more information, go to: www.MyPyramid.gov.