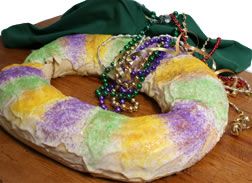 The history of the King's Cake travels back to the pre-Christain religions of Europe where a man was chosen to be the "sacred king" for a year and then sacrificed to ensure a good harvest. The method of choosing who would be the sacred king was through a King's Cake. A small nut or bean would be placed inside a cake before it was baked and whomever received the piece of cake containing the nut or bean was chosen as the sacred king. This tradition was carried down through the generations but was altered as the Christian religion became more prominent. The King's Cake was introduced to New Orleans with the French settlers around 1870 and is still a huge part of the Carnival Season and Mardi Gras today.
The modern day King's Cake is centered around the Carnival Season which begins on January 6th. Also known as the Twelfth Night or Epiphany, January 6th is the day that the three Kings visited baby Jesus and brought him gifts. Christians all over the world celebrate this day by exchanging gifts and baking a cake in honor of the three Kings, the King's Cake. Today the cake is the center of many Mardi Gras festivities including King's Cake Parties that take place throughout the season of Mardi Gras. The cake is baked into the shape of a circle, some say to represent the unity of Christianity, others say to represent the circular path that the three King's took to visit baby Jesus in order to confuse King Herod who was following them with plans of killing the Christ Child. It is adourned with the colors of purple, green and gold to represent the three Kings. A plastic baby Jesus is now baked inside the cake instead of nuts and beans that were originally used. The concept behind the cake remains the same, whoever receives the piece of cake that has the baby Jesus is responsible for baking the next cake and hosting the next King's Cake party in order to continue the festivities.
Hundreds of King's Cakes are baked during the Mardi Gras season and enjoyed by everyone. Tradition says that the cakes are only to be baked between the days of January 6th and the first day of Lent - the Mardi Gras season.