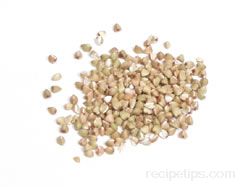 Buckwheat is most often ground into flour and used in pancakes, crepes, muffins, and soba noodles; however, the whole grain is often used as well. Buckwheat grains, or groats, that have not been roasted are known simply as buckwheat, while roasted groats are known by the Russian name "kasha." Kasha also refers to a popular Russian and Eastern European hot cereal or side dish made with roasted buckwheat groats. Roasted buckwheat is darker in color and has a stronger flavor than unroasted buckwheat.




Pre-roasting the Buckwheat Groats
The first step for preparing kasha with boiling, absorption, or steaming is to make sure that the hulled buckwheat groats have been roasted. Hulled buckwheat is available roasted, but if unroasted buckwheat groats are used, it is a simple process to roast, or toast, the grains on the stovetop before continuing.