The New Generation MyPlate Defined | Estimated Daily Calorie Requirements


The New Generation MyPlate Defined
The new MyPlate icon was released in June 2011 as the new food icon to be used by the federal government. The objective of its designed was to encourage people to think more about what they were putting on their plates at meal time. The design helps us visually see, proportionately, the amount of the different food groups we should be putting on our plates.
Similar to the MyPyramid icon used in the past, the MyPlate icon puts emphasis the food groups below:

Red: Fruits


Green: Vegetables


Orange: Grains


Purple: Protein


Blue: Dairy

The government also provides a source of information for all of us to access to help us create healthier diets at www.ChooseMyPlate.gov . Here you will find information, resources, and tools that will help you select healthier foods for yourself and your family. One of helpful tools provided by ChooseMyPlate.gov is the SuperTracker, which helps you create and track your own nutrition and physical activity plan. Plus it provides tips and support to help you make healthier choices.
Estimated Daily Calorie Requirements
The following chart provides an estimate of individual
calorie requirements depending on age, gender, and activity level.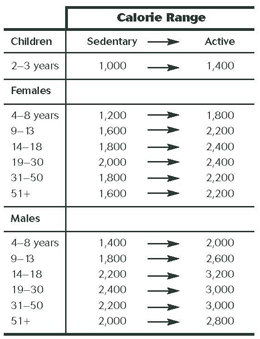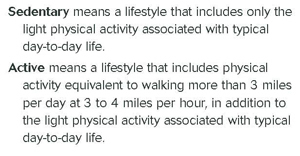 For this and more information, go to: www.ChooseMyPlate.gov.