Tags: comfort food, zucchini, chicken breasts, Italian recipes, vegetable soup, chicken soup, soup recipes, vegetables, carrots, onions, tomatoes, grilled chicken, chicken recipes, chicken
The other day, I was browsing through recipes on RecipeTips.com trying to decide what to make with my abundance of garden vegetables. With autumn upon us, a hearty vegetable soup sounded really good to me, and with my love of grilled food, the recipe, "Grilled Italian Chicken and Vegetable Soup," looked like it would be perfect.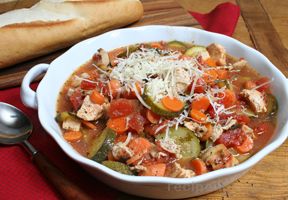 I was fortunate that all of the vegetables and herbs called for in the recipe came out of my garden: tomatoes, carrots, onions, zucchini, oregano, basil, and parsley; so the soup was inexpensive to prepare. I even had some chicken breasts in the freezer, so I didn't have to make a trip to the store. In addition to the fresh tomatoes, the recipe called for canned tomatoes with Italian seasoning, but I omitted the canned tomatoes (which I didn't have on hand) and used an equal amount of fresh garden tomatoes in its place. I simply added a sprinkling of garlic powder and black pepper, as well as a bit more basil and oregano to make up for the extra Italian seasoning that would have been included had I used the canned tomatoes.
Now for the grilled part: As suggested in the recipe, I grilled skinless boneless chicken breasts, which were seasoned with lemon pepper. After the chicken cooled sufficiently, I simply chopped it into bite-size pieces and added it to the soup, which, by the way, I cooked in a large pot on the stovetop, using canned chicken broth as a base for the soup.
Some of you might ask, "Why take the wonderful flavor of
grilled chicken
and drown it in a bowl of soup?" Well, the grilled taste really isn't lost; in fact, it does so much to enhance the flavor of all the ingredients in the soup. I found this recipe to be very satisfying—one of those "comfort foods" that so many of us begin to crave this time of year. I hope you enjoy it!