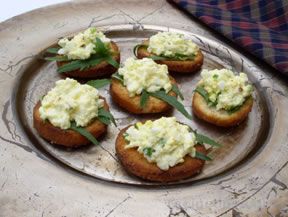 Directions
BRUSCHETTA:
Preheat oven to 400ºF.
Brush both sides of each baguette slice with olive oil.
Place the slices on an ungreased baking sheet and bake 5 minutes, turn, and bake an additional 5 minutes or until both sides are golden brown. Allow the slices to cool.
EGG SALAD:
Fill a small sauce pan with enough water to just cover the eggs. Bring to a full boil.
Reduce the heat to low and cover. Cook the eggs for about 10 minutes.
Remove the pan from the heat, drain, and immediately cool the eggs with cold running water.
Peel the eggs and finely chop.
Add the mayonnaise, pickle relish, chopped onion, salt, and pepper and mix well.
Place a heaping tablespoon of the egg mixture onto each toast slice.
Optional: Garnish with parsley and/or olives
Prep Time: 30 minutes
Cook Time: 15 minutes
Container: small saucepan, medium bowl


Ingredients
-
1 baguette, sliced in 1/2
-
EGG SALAD:
-
4 eggs
-
4 tablespoons mayonnaise
-
2 teaspoons sweet pickle relish
-
2 tablespoons green onion, finely chopped
-
salt and freshly ground pepper to taste
-
OPTIONAL GARNISH:
-
parsley or your favorite edible greens
-
sliced olives