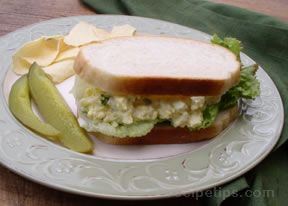 Directions
Fill a small sauce pan with enough water to just cover eggs and bring to a full boil. Reduce heat to low and cover. Cook eggs for about 10 minutes.
Remove from heat, drain, and immediately cool eggs with cold running water.
Peel eggs and finely chop. Add mayonnaise, pickle relish, chopped onion, salt, and pepper and mix.
Spread on bread of your choice. Garnish with lettuce or sprouts (optional).
Prep Time: 15 minutes
Cook Time: 15 minutes
Servings: 4


Ingredients
-
4 eggs
-
4 tablespoons mayonnaise
-
2 teaspoons sweet pickle relish
-
2 tablespoons green onion, finely chopped
-
salt to taste
-
freshly ground pepper to taste