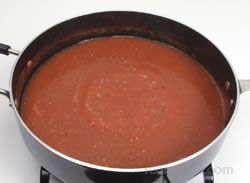 Directions
In a blender, add the green pepper strips and onion. Process until liquified.
Add the tomatoes, garlic and salt. Puree until liquefied.
In a large saucepan, add vegetable mixture. Bring it up to a boil for a few minutes, and then allow it to simmer. As the tomato sauce simmers, the excess water from the vegetables will start to rise to the top. Go ahead and take a spoon and skim off the excess water.
Simmer until it reaches your desired consistency. Remove it from the heat and allow it cool.
Once the sauce has cooled, you can either use it in a recipe, or it can be placed into a freezer container and be stored in the freezer for up to a year.
Prep Time: 10 minutes
Cook Time: 45 minutes


Ingredients
-
1 green pepper - sliced
-
1/2 onion - quartered
-
4 tomatoes - skinned
-
2 cloves garlic
-
1 teaspoon salt