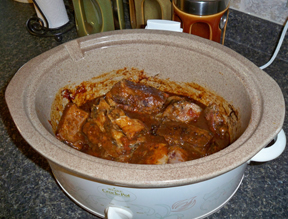 Directions
Place the short ribs into slow cooker and top with the chopped onions.
In a small bowl, combine the remaining ingredients. Pour this mixture into the slow cooker.
Cover the slow cooker and cook the ribs on the low heat setting for 6 to 8 hours or on high hear for 3 to 4 hours.
Remove the ribs from slow cooker and cover to keep warm while finishing the sauce.
Skim the excess fat from the surface of the sauce; then return the ribs to the sauce. Stir gently until evenly coated and heat for a few more minutes prior to serving.
Prep Time: 15 minutes
Cook Time: 6 or more hours
Container: 4- or 5-quart slow cooker
Servings: 8


Ingredients
-
4 pounds beef short ribs
-
1 large yellow onion, coarsely chopped
-
1/4 cup all-purpose flour
-
1/4 cup honey
-
2 tablespoons Dijon mustard
-
1 cup barbecue sauce, your favorite commercial brand