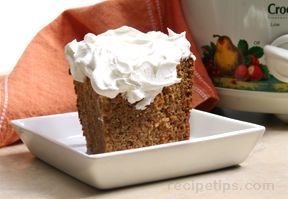 Directions
Prepare carrots by peeling and grating. Set the grated carrots aside.
In a mixing bowl, cream the sugar, eggs, water and vegetable oil together.
Add the flour, vanilla, baking powder, baking soda, and cinnamon. Blend just long enough to blend all ingredients.
Stir the grated carrots in by hand until they are evenly distributed.
Grease the inside of the crock from the 3 quart slow cooker. Pour in the batter and spread out evenly on the bottom of the crock.
Place four or five paper towels over the top of the crock and cover. Turn slow cooker on low and cook for 2 to 3 hours.
The cake is done when firm in the middle. Check by inserting a toothpick in the center. If done, the toothpick should come out clean.
Remove the crock from the slow cooker and place on a rack to cool before serving.
Cut pieces and remove from the crock. Serve with whipped topping or top with cream cheese frosting.
Prep Time: 45 minutes
Cook Time: 2.25 hours
Container: 3 quart slow cooker
Servings: 12
Serving Size: 1 piece


Ingredients
-
1 cup sugar
-
2 eggs
-
1/4 cup water
-
1/3 cup vegetable oil
-
1 1/2 cups flour
-
1 teaspoon vanilla
-
1 teaspoon baking powder
-
1/2 teaspoon baking soda
-
1 teaspoon cinnamon
-
1 cup grated carrots - packed
-
whipped topping or cream cheese frosting for serving