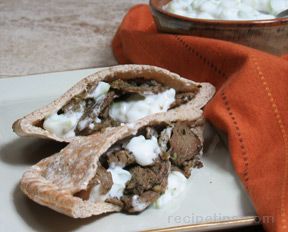 Directions
Slice the lamb tenderloins into 1/8 inch thick slices, cutting across the grain. Salt and pepper the lamb as desired. Set the slices aside.
Dice the onion into very fine pieces. Place in a medium size bowl.
Peel and mince the garlic. Place the garlic in the bowl with the diced onion.
Strip the rosemary leaves from the stem by pulling it through the thumb and forefinger of one hand. Mince the leaves.
Add the minced rosemary and the dried marjoram to the onions and garlic.
Add the lamb to the other ingredients and stir until well mixed.
Pour the oil into a pan and turn the burner to medium-high and heat it until it is hot.
Add the lamb mixture and cook until the meat is browned.
Cut the pita pockets in half and carefully open them up. Stuff each one with the cooked lamb mixture. If desired, top with additional onion and some tomatoes. It is also great with tzatziki sauce.
Prep Time: 45 minutes
Cook Time: 10 minutes
Servings: 4


Ingredients
-
1 pound lamb tenderloins
-
1/2 medium onion - finely diced
-
2 cloves garlic - minced
-
2 teaspoons dried marjoram
-
1 tablespoon fresh rosemary - minced
-
kosher salt
-
pepper
-
3 tablespoons vegetable oil or olive oil
-
2 pita pocket bread