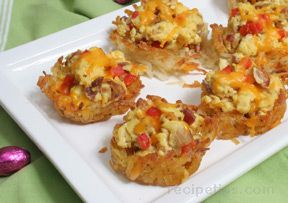 Directions
Preheat the oven to 400°F. Place the thawed hash browns in a large bowl. It works best if the hash browns are room temperature and not still cold.
Pour in the melted butter and add the salt and pepper; stir gently until the butter is well distributed.
Fill each cup of a 12-serving muffin tin with approximately 1/3 cup of hash browns.
Press the hash browns into the cups, molding them to the bottom and sides to form the nests.
Place in the preheated oven until the nests are nicely browned, approximately 40 to 45 minutes. Be sure they are nicely brown before removing because if they are under cooked, they will not hold together.
Remove the nests from the oven when they are done and allow them to cool while still in the muffin tin.
While the nests are cooling whisk the eggs and milk together.
Heat the two tablespoons of butter over medium-high heat. When it is hot, add the onions and red peppers; cook until the peppers have softened and the onions are slightly browned.
Add the bacon and cook until the bacon is warmed.
Pour in the egg and milk mixture; stir and cook the eggs until they are set and have formed small chunks.
Season with salt and pepper, if desired.
Set the oven to 375° F. Carefully loosen the nests from each cup and place on a baking sheet.
Fill the prepared hash brown nests heaping full of the egg mixture. Sprinkle each with shredded cheddar cheese.
Place the baking sheet containing the egg nests into the oven and cook until the cheese has melted.
Remove from the oven and serve immediately while warm.

Note: The nests can be made the day before and refrigerated to cut down on the preparation time the morning you are making them to serve.
Prep Time: 45 minutes
Cook Time: 1 hour
Container: Muffin tin
Servings: 12
Serving Size: 1


Ingredients
-
3 1/2 cups thawed shredded hash browns (thaw before measuring)
-
1/2 cup butter - melted
-
1/2 teaspoon salt
-
1/4 teaspoon pepper
-
6 eggs
-
2/3 cup milk
-
2 tablespoons butter
-
1/4 cup minced onion
-
1/3 cup diced red pepper
-
3/4 cup crumbled bacon pieces
-
shredded cheddar cheese