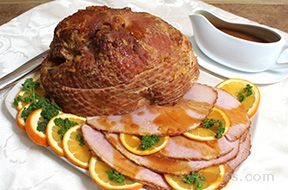 Directions
Remove any extra skin from ham. If not spiral cut, score ham 1/8" deep in diamond pattern. Place ham, fat side up on rack. Stir in preserves, mustard and 1 cup apricot nectar in medium bowl. Pour over ham.
Bake ham uncovered at 350° F. for 1 1/2 - 2 hours or until meat thermometer reaches 140 degrees F.; adding more apricot nectar to bottom of pan as needed.
When done baking, transfer ham to serving platter. Let stand 15 minutes before carving.
Pour pan drippings into medium saucepan. Add 2 more small cans of nectar if needed.
Bring to boil.
Serve sauce hot with ham.
Prep Time: 15 minutes
Cook Time: 2 hours
Container: large roasting pan with rack
Servings: 12


Ingredients
-
1 ham (8 to 10 lbs.) - fully cooked portion, whole, half or spiral cut
-
1 cup orange or apricot preserves
-
8 ounces Dijon mustard
-
6 small cans (5.5oz ea.) apricot nectar, divided