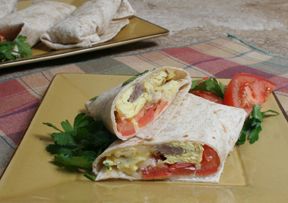 Directions
Melt butter in a skillet.
Add onion and cook over medium heat until the onion is softened, approximately 5 minutes.
Stir in chiles and heat through.
Add in cooked sausage and remove from heat.
Combine eggs and water in a medium bowl.
Beat with a whisk until well mixed.
Pour the eggs into the skillet with the onions, chiles and sausage.
Cook over medium heat allowing the edges to solidify. Then lift and flip the eggs so that the under side can cook. Cook until the eggs are soft set, approximately 3-5 minutes. Remove from heat.
For each burrito, place 1/4 cup of shredded cheese on top of an open tortilla.
Heat for 45 seconds in the microwave.
Top with 1/3 cup of the egg mixture and 1 tablespoons of salsa, if desired, or 2 tablespoons of chopped tomatoes.
Top with another 1/4 cup of shredded cheese.
Fold one side of the tortilla over the filling.
Tuck in each end and roll up the tortilla.
Repeat with the rest of the tortillas.
Garnish with cilantro if desired.
Prep Time: 15 minutes
Cook Time: 10 minutes
Container: medium skillet, medium bowl
Servings: 6


Ingredients
-
1 tablespoon unsalted butter
-
1/4 cup onion - chopped
-
1/4 cup green chiles - drained and chopped
-
8 ounces ground sausage - cooked, crumbled and drained
-
6 eggs
-
2 tablespoons water
-
3 cups pepperjack cheese - shredded
-
6 tortillas - 8 inch
-
Salsa - optional
-
1 tomato - chopped