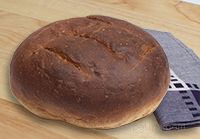 Directions
Add the active dry yeast to the warm water (95ºF to 115ºF). Allow it to sit for 5 or 6 minutes or until the yeast begins to bubble and foam. Note: Make sure the water is not too hot (a temperature of 140ºF is warm enough to kill the yeast cells).
On a flat work surface, combine the flour and the salt. After mixing, create a well in the center of the dry ingredients.
Pour the yeast liquid into the center of the well.
Using a wooden spoon or your hands, stir the liquid, picking up some of the flour from the inside walls of the well.
Continue drawing in flour until a paste forms; then add water in small increments and continue drawing in the flour. No more than one cup of water should be necessary.
When about one-third of the flour remains on the sides of the well, pull the remaining flour into the center and quickly incorporate it into the dough. Add small quantities of water to the dough if it is too dry.
Begin the kneading process by folding the dough in half; then using the heel of your hand, press firmly on the dough while pushing the dough away from you. The dough should become easier to work the longer it is kneaded. Turn the dough a little each time as you continue to knead it. If the dough is sticky, sprinkle it with a small quantity of flour during the kneading process. A pastry scraper can be used to remove any pieces of dough that may stick to the work surface while kneading. Continue kneading until the dough is smooth and elastic, which usually occurs in about 10 minutes.
Place the dough into a lightly oiled bowl, cover it with a clean, damp kitchen towel or oiled plastic wrap, and allow it to rise for 2 hours or until the dough has doubled in size.
Punch down the dough and allow it to rest for 5 to 10 minutes.
When using a greased loaf pan for baking, place the dough on a floured surface, and shape the dough into a size that will fit the loaf pan. When using a baking sheet, place the dough directly onto the greased baking sheet and shape the dough into a round or rectangular form.
Cover the dough with a clean kitchen towel or oiled plastic wrap and allow the dough to rise again (proofing the dough) until it is about doubled in size, which requires 30 to 45 minutes.
Bake the dough in a preheated, 425° F oven for 40 to 45 minutes. Check the bread for doneness by tapping on the bottom: A hollow sound indicates that the bread is done, while a dull sound indicates an underdone loaf.
Remove the bread from the loaf pan or baking sheet and cool on a wire rack to prevent the bottom from becoming soggy.
Prep Time: 3 hours
Cook Time: 45 minutes
Container: standard loaf pan or baking sheet
Servings: 12
Serving Size: 1 slice


Ingredients
-
2 teaspoons active dry yeast
-
1/2 cup warm water
-
3 1/2 cups bread flour or all-purpose flour
-
1 1/2 teaspoons salt
-
1 cup water