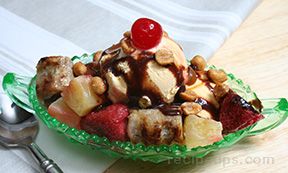 Directions
Preheat grill to medium.
Soak the bamboo skewers (if using) for 30 minutes in water.
Skewer the fruit using 2 of each type per skewer, alternating between the different types of fruit.
Combine the melted butter and honey. Brush the mixture onto the fruit; then place the skewers on the grill.
After 2 minutes turn and brush the fruit again. Don't cook the fruit much more than 4 minutes, as the fruit will become too soft and fall off the skewer.
Place 2 to 3 scoops of vanilla ice cream (homemade optional) in a serving bowl. Remove the fruit from 2 skewers, and place the fruit around the ice cream.
Top with chocolate and caramel syrup. Sprinkle with nuts if desired, and top off with a maraschino cherry.
Prep Time: 15 minutes
Cook Time: 5 minutes
Container: 4 serving bowls, 4 bamboo or metal skewers, small mixing bowl
Servings: 4


Ingredients
-
4 bananas cut into 1 1/2
-
1 pint large strawberries, hulled, cut in half
-
1 can pineapple chunks, drained (28 oz. can)
-
3 tablespoons melted butter
-
2 teaspoons honey
-
1 pint homemade vanilla ice cream (use store-bought if you wish)
-
chocolate syrup
-
caramel syrup
-
peanuts for garnish (optional)
-
maraschino cherries for garnish (optional)