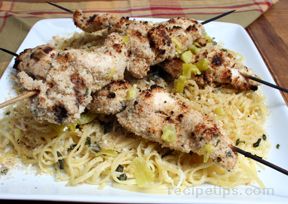 Directions
Combine lemon juice, lemon zest and olive oil together.
Remove 2 tablespoons of this mixture into a small bowl and add pepperoncini and set aside.
Place remaining lemon mixture into a resealable bag and add chicken tenders. Seal bag and refrigerate for 30-60 minutes.
Place 1/2 cup of bread crumbs, 1/4 cup of parmesan cheese, parsley, and garlic in a shallow dish; blend together.
Remove chicken tenders from the marinade and place into the crumb mixture, coating well one at a time.
Thread onto a bamboo or metal skewer. Two fit nicely onto one.
Preheat the grill to medium. Grill skewers directly for 10 minutes, turning once.
Meanwhile, cook fettuccine according to package directions.
Place on a large serving platter and sprinkle with olive oil and basil; toss to combine.
Sprinkle remaining bread crumbs, cheese and a little more olive oil on top.
Place under a low heat broiler for 5 minutes.
Top with chicken skewers and sprinkle all with pepperoncini mixture. Garnish with parsley if desired.
Prep Time: 30 minutes
Cook Time: 20 minutes
Container: large serving platter, bamboo or metal skewers
Servings: 4


Ingredients
-
1/2 cup lemon juice
-
1/2 lemon - zested
-
1 tablespoon olive oil
-
2 tablespoons chopped pepperoncini
-
1 package chicken tenders - approximately 1 pound
-
1 cup Italian seasoned bread crumbs - divided
-
1/2 cup parmesan cheese - grated, divided
-
1 tablespoon fresh parsley - chopped
-
2 cloves garlic - minced
-
16 ounces fettuccine
-
1 tablespoon fresh basil - chopped
-
olive oil for pasta