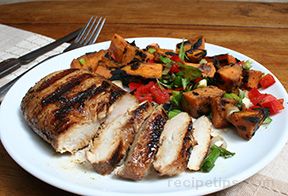 Directions
Combine all of the ingredients except the chicken in a resealable plastic bag or in a medium glass bowl; mix well.
Add the chicken. Marinate 12-24 hours in the refrigerator.
Preheat the grill to medium. Place the chicken on the grill, and cook for 15 minutes, turning once or until no longer pink in the middle and the juices run clear.
Prep Time: 10 minutes
Cook Time: 15 minutes
Container: resealable plastic bag, or medium glass bowl
Servings: 12
Serving Size: 1 filet


Ingredients
-
3 pounds chicken breasts
-
1 1/2 cups oil
-
2 tablespoons dry mustard
-
1/2 cup red wine vinegar
-
1/3 cup lemon juice
-
3/4 cup soy sauce
-
2 1/4 teaspoons salt
-
1 1/2 teaspoons parsley
-
1/4 cup Worcestershire sauce
-
2 tablespoons black pepper
-
1/2 teaspoon garlic powder