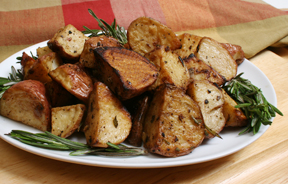 Directions
Place all of the ingredients, except the potatoes, in a mixing bowl. Stir to combine.
Add the potatoes and stir until all of the potatoes are covered with the oil mixture.
Heat the grill to medium.
Place the potatoes in a vegetable grill rack or you can place a piece of tin foil directly on the grill and grill the potatoes on top of that. If using tin foil, be sure to spray it with a nonstick cooking spray before placing it on the grill.
Grill for 20 minutes, stirring occasionally.
Prep Time: 10 minutes
Cook Time: 20 minutes
Container: mixing bowl, grill, vegetable grill rack
Servings: 6


Ingredients
-
2 pounds red potatoes - washed and quartered
-
3 sprigs fresh rosemary - stemmed and chopped
-
1/3 cup olive oil
-
salt and pepper to taste