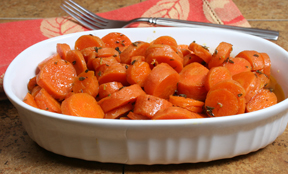 Directions
Spray foil with a nonstick cooking spray.
Place the cut carrots on the foil.
Sprinkle with olive oil.
Mix the lemon juice, butter, sugar, and thyme. Pour over the carrots; then fold the foil to make a packet.
Place on the grill over medium heat.
Cook for 10-15 minutes, just until the carrots are crisp tender.
Open the packet and stir occasionally and check for doneness.
Garnish with lemon zest if desired. Serve immediately.
Prep Time: 15 minutes
Cook Time: 15 minutes
Container: 12x12 piece of foil, grill
Servings: 6


Ingredients
-
1 1/2 pounds carrots - cut into 1/2 inch slices
-
1/3 cup lemon juice
-
3 tablespoons unsalted butter - melted
-
2 tablespoons sugar
-
1 tablespoon fresh lemon thyme - chopped
-
salt and pepper to taste
-
lemon zest for garnish