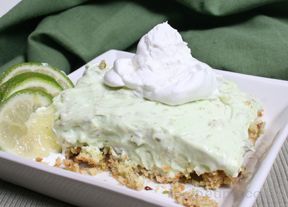 Directions
Preheat the oven to 350° F.
Combine the cookie crumbs, 3 tablespoons of the nuts, and the melted margarine. Press firmly into the bottom of a 9x13 pan or a 9-inch springform pan.
Bake for 8-10 minutes; cool.
Meanwhile, in a large bowl, beat the cream cheese until fluffy.
Gradually beat in the condensed milk; then beat in the lime juice and the pudding mix until smooth.
Stir in the pineapple and the remaining 1/2 cup of nuts.
Fold in the whipped cream.
Pour into the prepared pan (with the crust bottom).
Chill 6 hours or overnight.
Garnish with a dollop of whipped cream if desired.
Prep Time: 15 minutes
Cook Time: 10 minutes
Container: 9x13 pan, mixing bowl
Servings: 18


Ingredients
-
50 vanilla wafers - crushed
-
1/2 cup plus 3 tablespoons pistachios or pecans or combination of both - chopped
-
1/4 cup butter or margarine - melted
-
1 package (8 oz.) cream cheese
-
1 can (14 oz.) sweetened condensed milk
-
1/4 cup lime juice
-
1 small package instant pistachio pudding and pie mix
-
1 can (8 oz.) crushed pineapple - undrained
-
1/2 small container of whipped topping or 1 cup whipped cream