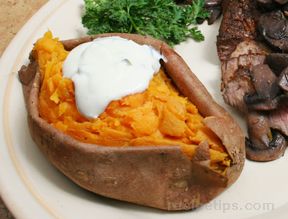 Directions
POTATOES:
Preheat oven to 450°.
Rub sweet potatoes with oil.
Pierce once with a fork.
Place a baking sheet on bottom rack to catch any drippings.
Place potatoes directly on middle rack in oven and bake for 40-45 minutes or until soft when pierced with a fork.
SOUR CREAM:
Mix all ingredients together and serve chilled over sweet potatoes.
Use within an hour of preparation in order for the recipe to remain creamy. The acid in the jalapeños and lime juice have a tendency to break down the sour cream and make it "watery".
Prep Time: 10 minutes
Cook Time: 40 minutes
Servings: 4


Ingredients
-
4 sweet potatoes
-
SOUR CREAM:
-
1/2 cup sour cream - plain yogurt or creme fraiche
-
1 tablespoon honey honey
-
3 teaspoons jalapeño - jarred or fresh, minced and seeded
-
1 teaspoon lime juice
-
salt to taste
-
tobasco to taste