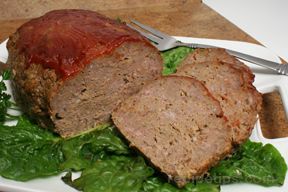 Directions
Preheat oven to 325 degrees.
In medium skillet, over med-low heat, cook onions in olive oil with salt, pepper and thyme until translucent but not browned (approximately 15 minutes).
Add Worcestershire sauce, chicken stock and tomato paste. Mix well. Allow to cool slightly.
Combine ground turkey, Italian-style ground turkey, ground beef, bread crumbs, Herbs de Provence, eggs, and onion mixture in large bowl. Mix well and shape into mounded rectangle shapes and place in baking dish or baking sheet pan.
Spread ketchup evenly over top.
Bake for 1 hour 15 minutes or until internal temperature reaches 160 degrees and loaf is cooked through.
Serve hot, or cold in a sandwich.
Prep Time: 20 minutes
Cook Time: 1.5 hours
Container: 9 x 13 baking dish
Servings: 10
Serving Size: 1 slice


Ingredients
-
2 tablespoons olive oil
-
1 1/2 cups chopped onions
-
1 teaspoon salt
-
1 teaspoon pepper
-
1/2 teaspoon dried thyme leaves
-
1/4 cup Worcestershire sauce
-
1/4 cup chicken broth
-
2 teaspoons tomato paste
-
1 pound ground turkey
-
1 pound ground turkey Italian-style
-
1 pound ground beef
-
1 cup bread crumbs - plain or seasoned
-
1/2 teaspoon Herbs de Provence
-
2 eggs - slightly beaten
-
1/2 cup ketchup