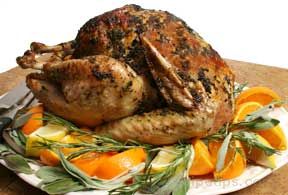 Directions
Preheat oven to 400°. Position the rack on the lowest third of the oven.
Rinse turkey, pull out neck and giblets and pat dry with paper towels. Place turkey on the rack set inside the roasting pan.
Place orange, lemon and onions wedges and 2 sprigs of each herb into the cavity of the turkey.
Tie turkey legs together unless already done by the manufacturer.
In a small saucepan, melt 2 tablespoons of butter, with herbs de provence, oil and 1 1/2 teaspoons each of salt and pepper.
Brush or rub the mixture all over the turkey and between the breast meat and skin.
Note: All the above prep can be done up to a day ahead. Cover and refrigerate until ready to bake - bring the bird back to room temperature before baking.
Cover turkey with tin foil, roast in oven for 20 minutes.
Pour 3 cups of broth into the pan and scrape up any bits from the bottom of the pan in order to make the gravy.
Add in the remaining sprigs of herbs.
Roast turkey for 40 more minutes.
Reduce heat to 350°.
Remove foil from turkey, pour one more cup of broth into the pan and continue roasting until the meat thermometer reaches 165-175° or juices run clear in the thickest part of the thigh when pierced. Approximately 1 1/2 hours more.
Transfer turkey to a platter when finished baking. Tent with foil and let stand for 30 minutes before carving.
GRAVY:
Spoon off any fat from the pan juices.
Add enough broth (1-2 cups) to the pan juices to measure a total of 4 cups.
Melt remaining butter in a heavy saucepan; add flour and whisk for one minute; whisk into the broth and pan juices.
Simmer until the gravy thickens, approximately 10 minutes, whisking often.
Prep Time: 10 minutes
Cook Time: 3 hours
Container: Roaster
Servings: 12


Ingredients
-
15 pounds turkey
-
1 orange - cut into wedges - more for garnish if desired
-
1 lemon - cut into wedges - more for garnish if desired
-
1 onion cut into wedges
-
6 sprigs fresh rosemary
-
6 sprigs fresh sage
-
6 sprigs fresh oregano
-
6 sprigs fresh lemon thyme
-
7 tablespoons butter unsalted
-
2 tablespoons Herbs de Provence
-
1 tablespoon olive oil
-
1 1/2 teaspoons salt and pepper
-
6 cups chicken broth
-
1/3 cup flour