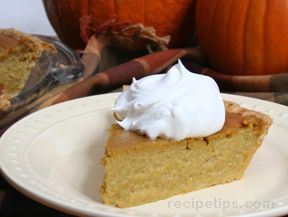 Directions
PUMPKIN PUREE:
Preheat the oven to 350°F.
Wash the exterior of the pumpkin, remove the stem and cut the pumpkin in half lengthwise.
Scrape out the seeds and stringy fibers from the center using a metal spoon.
Coat the cut surface of the pumpkin halves with vegetable oil. Place halves cut side done in a roasting pan. Add 1 cup of water to the pan.
Place the pumpkin in the preheated oven and bake for 60 to 90 minutes. It is done when the flesh feels tender when poked with a fork.
Remove the pumpkin from the oven and place on a cooling rack.
Cool until it can be handled comfortably. Scrape the flesh out of the pumpkin halves and place in a large bowl.
Use a hand mixer to blend the flesh until it is pureed.
Drain moisture from the puree by placing it in a sieve lined with paper towels or a double layer of coffee filters. Be sure the sieve is placed in a bowl to catch the liquid as it drains.
Cover the puree with plastic wrap and place in the refrigerator. Allow puree to drain for at least 2 hours. Drain overnight if possible.
After draining, the pumpkin puree is ready to use.
PIE FILLING:
Preheat oven to 350°F.
Have the unbake pie shell prepared and chilled.
Combine the flour and the brown sugar in a mixing bowl. Stir until they are evenly distributed.
Add the pumpkin puree and heavy cream. Beat until well blended.
Stir the salt, cinnamon, ginger, and nutmeg into the pumpkin mixture. Add corn syrup and beat until well blended.
Add the eggs and vanilla to the pumpkin mixture and beat until thoroughly mixed.
Pour pumpkin filling into the unbaked pie shell.
Place the pie in the preheated oven and bake for 50 to 60 minutes. Check after 30 minutes to see if the crust is browning too quickly. If so, place a piece of foil over the pie. Remove the foil for the last 10 minutes of baking time so crust will finish browning.
To check for doneness, insert the tip of a table knife in about 1 inch from the center of the pie. The knife will come out clean if the pie is done. If the knife does not come out clean, continue to cook and check for doneness at 5 minute intervals.
When the pie is done, remove it from the oven. Allow it to cool completely before serving. Serve with a spoonful of whipped cream on each slice.
Prep Time: 1.5 hours
Cook Time: 2 hours
Container: 9 inch pie plate
Servings: 8
Serving Size: slice


Ingredients
-
PUMPKIN PUREE:
-
1 pie pumpkin (weighing 2 to 3 lbs.)
-
Vegetable oil
-
PIE FILLING:
-
1 single pie crust, 9 inch
-
1/2 cup brown sugar
-
1 tablespoon flour
-
1 1/2 cups pumpkin puree
-
1 1/2 cups heavy cream
-
1/2 teaspoon salt
-
1 teaspoon ground cinnamon
-
1/2 teaspoon ground ginger
-
1/4 teaspoon ground nutmeg
-
1/2 cup light corn syrup
-
3 eggs, beaten
-
1 teaspoon vanilla
-
Whipped cream for serving