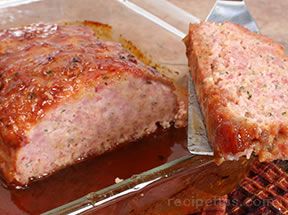 Directions
Heat oven to 350° F.
In food processor, pulse chunks of ham until it reaches desired consistency.
In a large bowl combine, ham, fresh pork, mustard, onion, garlic, oatmeal, milk, eggs, and parsley. Form into two loaves in prepared baking dish.
In a small bowl combine glaze.
Pour glaze over ham loaves and bake uncovered 60-70 minutes.
Baste 1 to 2 times during baking.
Serve warm with glaze.
Prep Time: 15 minutes
Cook Time: 1.5 hours
Container: 9x13 baking dish - coated with vegetable cooking spray.
Servings: 10


Ingredients
-
1 1/2 pounds ground baked ham
-
1 pound ground fresh pork
-
1 tablespoon spicy brown mustard or prepared mustard
-
1 onion - chopped fine
-
1 large clove garlic - minced or chopped fine
-
1/2 cup quick cooking oatmeal - uncooked
-
1/2 cup milk
-
3 eggs- slightly beaten
-
1 tablespoon dried parsley flakes
-
GLAZE:
-
1/3 cup brown sugar
-
1/3 cup cider vinegar