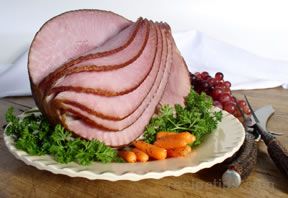 Directions
Heat oven to 350 degrees F.
Place ham sliced side down, if using a spiral cut ham, in a roasting pan and bake in oven 8 minutes per pound. (If you are baking a non-precooked ham, then follow the directions on the label for cooking times.)
While ham bakes, melt jelly in a saucepan. Whisk in remaining glaze ingredients until well blended. Cool to room temperature.
Remove ham from oven when finished and increase the temperature to 450 degrees F. Brush ham with glaze and return to oven for 7 minutes longer until glaze sets.
Remove from oven and let stand approximately 10 minutes before serving.
Prep Time: 30 minutes
Cook Time: 2 hours


Ingredients
-
1/2 cup apple jelly
-
1 tablespoon Dijon mustard
-
1 1/2 teaspoons lemon juice
-
1/8 teaspoon ground cloves
-
10 pounds spiral cut ham or regular