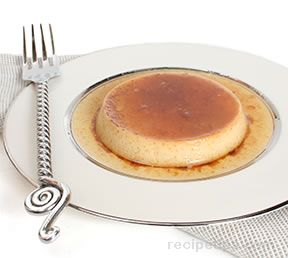 Directions
Preheat oven to 325ºF.
In a heavy sauce pan over medium heat, add 1 cup of sugar and 1/4 cup water. Stir constantly until sugar dissolves and becomes clear.
Continue cooking and stirring until mixture turns a light golden brown.
Immediately pour mixture into flan dishes, dividing mixture evenly.
Over low heat in a small sauce pan, heat milk until hot. Remove from heat.
In a medium bowl, whisk eggs, salt and 1/2 cup sugar until thick and light yellow in color.
Pour hot milk mixture gradually into egg mixture. Continue to whisk.
Add cinnamon, whisk to mix.
Divide mixture evenly between the baking dishes.
Place the filled baking dishes into the 9x13-inch pan.
Pour hot water into pan to approximately 1-inch below the top of the flan baking dishes.
Bake 30 to 40 minutes or until a knife inserted into the center of the custard comes out clean.
Remove flan baking dishes from hot water bath and cool on a wire rack.
When cooled, chill for 2 hours before serving.
To serve, run a knife around the outside edge of the flan and invert the individual flans onto dessert plates.
Tip: If the flan does not remove easily, dip the flan dish in hot water for a few seconds before inverting onto a serving dish.
Prep Time: 20 minutes
Cook Time: 45 minutes
Container: 6 flan baking dishes (8 ounce baking dishes will make a thinner flan while 6 ounce baking dishes will add depth. 9x13-inch pan for hot water bath)
Servings: 6
Serving Size: 1 each


Ingredients
-
1 cup white sugar
-
1/4 cup water
-
3 large eggs
-
1/2 cup sugar
-
2 cups milk
-
2 teaspoons vanilla
-
1/2 teaspoon ground cinnamon