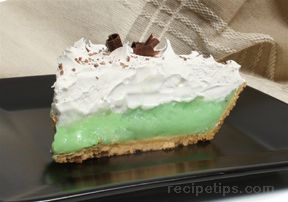 Directions
In a small mixing bowl, combine 1 package of instant pistachio pudding mix and 2 cups of cold milk. Whisk for two minutes until the pudding is starting to set. Pour this mixture into a prepared graham cracker crust.
Top with whipped cream or non-dairy whipped topping. Garnish with grated chocolate, chocolate curls, cherries, or whatever you desire.
Chill for at least two hours before serving.
Prep Time: 10 minutes
Cook Time: 0 minutes


Ingredients
-
1 prepared graham cracker crust
-
1 package pistachio instant pudding mix
-
2 cups cold milk
-
8 ounces whipping cream or non-dairy whipped topping