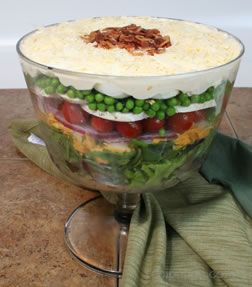 Directions
Layer ingredients in a trifle bowl or a 9" x 13" glass dish. Begin by layering the greens first, either combining the greens or layering each type of green individually. Then layer the remaining ingredients: shredded cheese, water chestnuts, red onion, grape tomatoes, mushrooms, green peas, and hard boiled eggs in order listed or as you desire. Sprinkle hard boiled eggs with paprika.
In a small bowl, mix mayonnaise with sugar. Spread mixture evenly over the last layer of salad. Sprinkle freshly grated Parmesan cheese on top and cover with plastic wrap.
Refrigerate overnight or for as long as 24 hours. Immediately before serving, sprinkle with crumbled bacon.

Serves 6 as a main entree; serves approximately 12 as a side dish.
Cook Time: 30 minutes
Container: Trifle bowl, deep clear glass bowl or 9 x 13 ceramic bakeware
Servings: 6


Ingredients
-
2 cups spring greens or herb salad mix
-
2 cups arugula
-
2 cups baby spinach
-
1 1/2 cups shredded Cheddar cheese
-
8 ounces sliced water chestnuts
-
1 small red onion thinly sliced
-
2 cups grape tomatoes (may cut in half if desired)
-
8 ounces fresh mushrooms, sliced
-
10 ounces frozen green peas, blanched and drained
-
3 to 4 hard boiled eggs, sliced
-
paprika - sprinkle on eggs for garnish (optional)
-
1 3/4 cups mayonnaise (add additional mayonnaise if desired)
-
1 tablespoon sugar
-
1/2 cup grated Parmesan cheese
-
4 to 6 slices bacon, cooked and crumbled