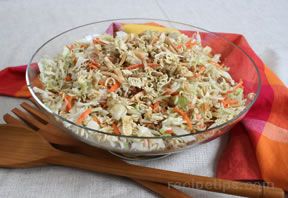 Directions
Preheat oven to 350 degrees F.
On a large baking sheet with edges, combine almonds, sunflower seeds, crushed Ramen noodles. Lightly spritz with vegetable oil spray. Roast for 10 minutes. Let cool.
In a large bowl, combine coleslaw and green onions. Add almond mixture and combine.
In a jar or small bowl, combine oil, sugar, vinegar, black pepper, soy sauce and seasoning packet from the ramen noodle mix. Whisk until thoroughly blended.
Just before serving, pour dressing over salad; toss to coat evenly. Serve immediately.
Prep Time: 20 minutes
Cook Time: 20 minutes
Container: large bowl
Servings: 6
Serving Size: cup


Ingredients
-
1/2 cup slivered almonds
-
2 tablespoons sunflower seeds
-
3 ounces package of Ramen noodles (chicken flavored)
-
16 ounces package of coleslaw mix
-
4 green onions - diced
-
DRESSING:
-
1/2 cup canola oil
-
2 tablespoons white sugar
-
3 tablespoons cider vinegar
-
1/2 teaspoon ground black pepper
-
1 tablespoon soy sauce
-
1 packet of seasoning from Ramen noodles