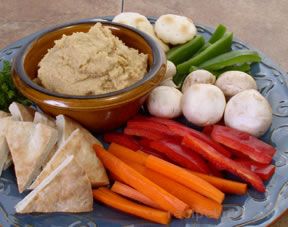 Directions
Place first three ingredients in a food processor and pulse until smooth.
Add the tahini, water, salt, cumin, and cayenne pepper to the bean mixture and pulse until smooth.
Refrigerate to marinate the flavors. It can be held in the refrigerator for up to one week.
Before serving, bring to room temperature, drizzle with olive oil, and sprinkle with paprika and freshly minced parsley.
Serve with fresh vegetables, pita wedges, or crackers.
Note: If you do not have tahini, smooth peanut butter can be substituted.
Prep Time: 15 minutes
Container: small serving bowl
Servings: 8
Serving Size: 1 tablespoon


Ingredients
-
15 ounces garbanzo beans (chick peas)
-
4 tablespoons lemon juice
-
2 cloves garlic
-
2 tablespoons tahini (or smooth peanut butter)
-
2 tablespoons hot water
-
1/2 teaspoon salt
-
1/8 teaspoon cumin
-
1/3 teaspoon cayenne pepper
-
1 tablespoon olive oil
-
1/8 teaspoon paprika
-
1 tablespoon fresh parsley, minced