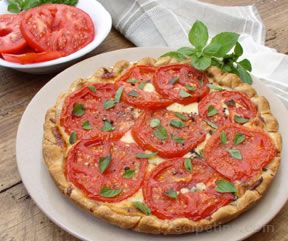 Directions
Preheat oven to 400° F.
Place the 9" pastry dough in the bottom and up 1" on the sides of the prepared pan, using your fingers to spread it evenly.
Cover the bottom of the crust with shredded cheese and 2 tablespoons chopped basil. Arrange tomato slices to cover cheese evenly. Salt and pepper tomato slices and drizzle with olive oil.
Bake 35-40 minutes. Just before serving, garnish with fresh basil leaves. May serve warm or at room temperature.
Prep Time: 30 minutes
Cook Time: 30 minutes
Container: 9
Servings: 6
Serving Size: 1 piece


Ingredients
-
1 basic pastry dough for 9
-
8 ounces Swiss cheese, shredded (or mozzarella)
-
2 tablespoons fresh basil, chopped
-
4 medium fresh tomatoes, cut into 1/4-inch slices
-
1/2 teaspoon salt
-
1/4 teaspoon freshly ground black pepper
-
2 teaspoons olive oil
-
fresh basil for garnish