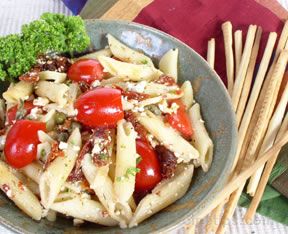 Directions
Cook the pasta according to the package directions; drain and place into a large bowl.
While the pasta is cooking, prepare the salad dressing according to the package directions and pour over the warm, drained pasta. Let the pasta cool before adding the remaining ingredients.
Add the drained capers, crumbled feta cheese, chopped parsley, and chopped reconstituted sun dried tomatoes. Refrigerate for 4 to 6 hours so that the flavors of the ingredients blend together.
Just before serving, add the tomatoes.
Substitution: Instead of using capers, you can use chopped Kalamata olives.

Optional: To use this salad as an entrée, add one chicken breast per person.

Optional: Use cherry tomatoes instead of chopped large tomatoes.

Note: This recipe doubles and triples easily.
Prep Time: 15 minutes
Cook Time: 10 minutes
Container: large pasta pot, large bowl, small bowl or small jar with lid (for mixing packaged salad dressing)


Ingredients
-
16 ounces penne pasta - cooked and drained
-
8 ounces feta cheese - crumbled (use any flavor of feta - we like tomato basil for the flavor and color)
-
2 ripe tomatoes, large - chopped
-
1/4 cup capers, drained
-
1/4 cup parsley - chopped
-
3 ounces package of sun dried tomatoes (reconstitute the tomatoes and chop)
-
1 package zesty Italian dressing - prepare according to the package directions