Friday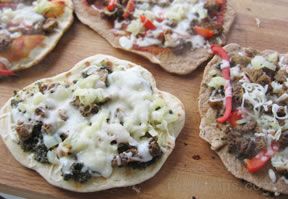 Grilled Pizza
Pizza on the grill, good any time, is a summertime delight, with garden-fresh toppings and no need to heat up the oven.


Additional recipes:
Quick Pizza Breadsticks
Banana Strawberry Smoothie


You can make these grilled pizzas easier by using refrigerated pizza crust. Add any of your favorite toppings, such as pepperoni, sausage, ham, pineapple, olives, peppers, mushrooms, and onions; then top it with cheese.