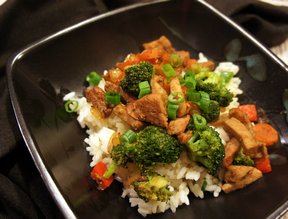 Directions
Mix together dressing mix, juice, oil and soy sauce.

Combine one tablespoon of dressing mixture and pork strips in a large skillet over medium heat. Cook and stir for 4-5 minutes, or until meat is no longer pink.

Add vegetables and remaining dressing mixture; cook and stir until vegetables are crisp/tender.

Serve over cooked rice and top with green onions, if desired.
Prep Time: 10 minutes
Cook Time: 10 minutes
Servings: 6


Ingredients
-
1 packet dry Italian salad dressing mix (1 ounce pkg)
-
1/4 cup orange juice
-
1/4 cup oil
-
2 tablespoons soy sauce
-
1 pound pork loin, cut into strips
-
1 package frozen oriental vegetable blend, thawed (16 ounce pkg)
-
2 1/2 cups cooked rice
-
2 green onions, sliced (optional)