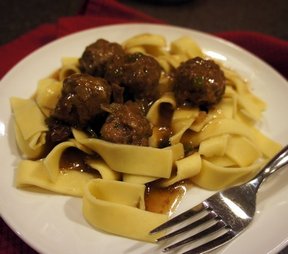 Directions
In a large bowl, combine ground beef, onion, green pepper, egg and breadcrumbs. Form into small balls. Place on broiler pan and broil for 10-12 minutes, until cooked through.

Preheat oven to 350 degrees F.

In a oven-safe pot, add beef broth, Worcestershire sauce, mushrooms and cooked meatballs. Cover and cook for 30 minutes or more.

Thicken sauce with a mixture of cornstarch and cold water. Season with salt and pepper.

Serve over egg noodles or rice.
Prep Time: 25 minutes
Cook Time: 30 minutes
Servings: 8


Ingredients
-
1 1/2 pounds ground beef
-
salt and pepper, to taste
-
1 onion, diced
-
1 green pepper, diced
-
1 egg
-
1/2 cup breadcrumbs
-
3 cups beef broth
-
1/4 teaspoon Worcestershire sauce
-
1 cup mushrooms, sliced (optional)
-
1 tablespoon cornstarch
-
2 tablespoons cold water