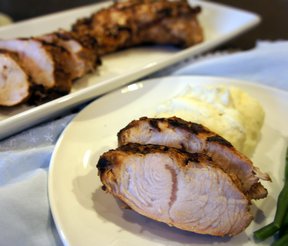 Directions
In a large bowl, whisk together the lemon juice, minced onion, ginger, black pepper, sherry, soy sauce, oil and garlic powder to make marinade.

Add turkey tenderloins and turn to coat both sides. Cover and marinate for several hours or overnight in the refrigerator, turning occasionally.

Grill tenderloins over a hot grill 10-12 minutes per side, depending on thickness. Turkey is done when the meat is 170°.
Prep Time: 10 minutes
Cook Time: 20 minutes


Ingredients
-
2 turkey tenderloins
-
2 tablespoons fresh lemon juice
-
2 tablespoons minced onion
-
1/4 teaspoon ground ginger
-
1 dash black pepper
-
1/4 cup dry sherry
-
1/4 cup soy sauce
-
1/4 cup vegetable oil
-
1 dash garlic powder