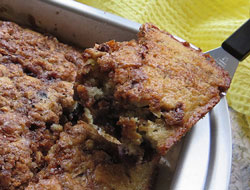 Directions
Preheat oven to 350 degrees. Grease a 9x13 baking pan; set aside.
Combine flour, sugar, baking powder, and salt in large bowl. With pastry blender, or 2 knives, cut in butter until mixture resembles coarse crumbs.
Make a well in the center. Add milk, eggs, and vanilla. Stir just until moistened.
Fold in blueberries. Spread mixture evenly in greased pan.
Combine topping ingredients in a small bowl. Sprinkle evenly over batter.
Bake 40-50 minutes, until toothpick inserted in middle comes out clean. Cool on wire rack.
Prep Time: 30 minutes
Cook Time: 45 minutes
Container: 9 x 13 baking pan
Servings: 15


Ingredients
-
2 cups flour
-
1 cup sugar
-
3/4 teaspoon salt
-
1 tablespoon baking powder
-
1/2 cup butter
-
2 eggs
-
1 cup milk
-
1 teaspoon vanilla
-
1 1/2 cups blueberries, fresh or frozen
-
TOPPING:
-
1/3 cup brown sugar, firmly packed
-
1/3 cup granulated sugar
-
2 teaspoons cinnamon
-
1/2 cup chopped pecans
-
1 tablespoon butter, melted