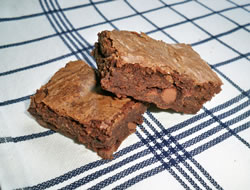 Directions
Preheat the oven to 325 degrees F. Grease sides and bottom of a 10 x 15 bar pan.
In a small bowl combine flour, baking powder, and salt; set aside.
In a large bowl combine water, sugar and butter. Microwave on High for 1 minute, until butter melts and sugar dissolves.
Add 2 cups of chocolate chips and the vanilla. Stir until melted and smooth.
Add eggs one at a time, beating well after each addition.
Gradually blend in flour mixture, and then add remaining chocolate chips.
Spread in a greased 10 x 15 bar pan and bake at 325 degrees F. for 30 to 35 minutes. Cool completely before cutting.
Prep Time: 15 minutes
Cook Time: 30 minutes
Container: 10 x 15 bar pan


Ingredients
-
1 1/2 cups unsifted flour
-
1/2 teaspoon baking powder
-
1/2 teaspoon salt
-
2/3 cup butter
-
1 1/2 cups sugar
-
1/4 cup water
-
4 cups chocolate chips (two 12 ounce pkg)
-
2 teaspoons vanilla extract
-
4 eggs