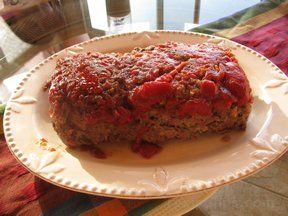 Directions
Preheat oven to 350 degrees F.
Press the brown sugar in the bottom of a loaf pan and spread the ketchup over the sugar.
In a mixing bowl, mix thoroughly all remaining ingredients and shape into a loaf. Place on top of the ketchup.
Bake in preheated oven for 1 hour 15 minutes or until juices are clear.
Allow to sit for 5 minutes. Drain off some of the fat. Carefully flip onto a platter and enjoy.
Prep Time: 15 minutes
Cook Time: 1.5 hours
Servings: 8


Ingredients
-
1/2 cup packed brown sugar
-
3/4 cup ketchup
-
2 pounds lean ground beef
-
1/2 cup milk
-
2 eggs
-
2 teaspoons salt
-
1 teaspoon garlic powder
-
2 teaspoons Worcestershire sauce
-
1/2 teaspoon ground black pepper
-
1 onion , diced
-
1 green pepper , diced
-
3/4 cup breadcrumbs